Wall St to Bee St to CBD St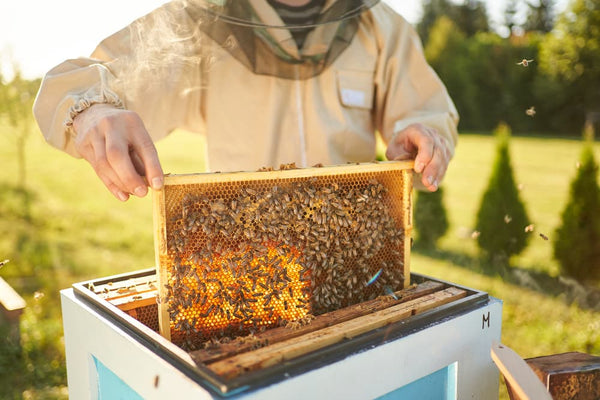 In June 2013, 29 years after graduating Business School with an MBA, he'd had enough. Staring at screens all day, managing a $4b portfolio, responding to inquiries in under 3 seconds, talking to the Federal Reserve about inflation, being what Tom Wolfe called a Master of the Universe. Enough. 
So he got up and quit. He remembers driving home afterwards and thinking how great it felt. A load had been lifted from his shoulder. He had no plans, probably for the first time in his life. It began what would be 2 years off.
Jay now had time to focus on a new interest, beekeeping. He had tried unsuccessfully the prior 2 years, and finally Janet told him what should have been obvious; either you learn how to do it properly or quit, you can't just keep killing bees. Challenge accepted. A lifetime apartment dweller, Jay wasn't the most natural candidate to be a beekeeper, but that made the challenge all that much better. 
He studied YouTube videos, joined beekeeping forums, attended workshops, and was willing to drive up to 5 hours to purchase high quality bees. In addition to learning about all the fascinating bee facts, he began to realize that there was an unintended benefits well; being in touch with nature. Not in a hippie dippie way, but in a very practical sense. For now he was always in tune with which trees, plants and weeds were flowering, and became acutely aware of the subtleties of the spring through fall seasons through the lens of the bees.
When it was time to get back into the real world, Jay started investing in the cannabis industry. This eventually led him to learn about CBD and the endocannabinoid system. In his years on a trading desk, there were only 2 ways that were commonly used to relieve stress; smash your phone on the desk, yell and curse (he claims to have been fairly successful at avoiding this) or go out drinking (with far less less success at avoiding). While it was fun, it was unhealthy and the hangovers became overbearing. The idea of a healthy alternative to relieving stress was something that began to resonate. So at the ripe young age of 60, he decided the time was right to be a first time entrepreneur and launch a CBD drink. 
There were several priorities. First, he didn't want to market a drink that was a novelty item, with an insufficient amount of CBD or artificial sweeteners or preservatives. In his research, when asking about an appropriate starting CBD dose, it was always a dropperful (or 25 mgs). Why launch a drink with less?
He also wanted to support sustainable beekeepers from the community he was now a part of. So we used raw honey sourced directly from the beekeepers as the drink's only sweetener.
They haven't been shy about always improving their drink. First they decided to add premium minor cannabinoids to help turbo charge the effects. And they added significant amounts so that you can see in black & white (by comparing their COA to others) why they're unique.  They believe they were the first to publish lab results on our website. They always strive to be a responsible, adult source for a tasty alternative to an adult beverage.
Want to learn more? Just click on the Learn More button!